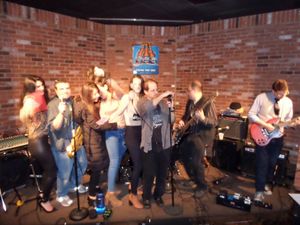 Links
Welcome to The Score's links page.  If you would like us to link up (or re-link) to your site, please email us at webmaster@thescorerocks.com.  All we ask for is a corresponding link on your website.  Check out some of these great sites!

VENUES


Carmine's Bar, Grill & Stage - East Hartford, CT

The Farm at Carter Hill - Marlborough, CT
City Sports Grille- Vernon, CT
Crystal Bees Bistro and Bowling- Southington, CT

Irish American Club - Glastonbury, CT

Johnny B's- Wolcott, CT
La Luna- Branford, CT

Old Well Tavern- Simsbury, CT

Piccolo Arancio- Farmington, CT

Red's Tavern- South Windsor, CT
Rooftop 120- Glastonbury, CT

Revolutions Bowling and Lounge- South Windsor, CT

Stryker's Cafe - Berlin, CT

The Hartford Club- Hartford, CT
The Pub- South Windsor, CT

The Yarde Tavern-  Enfield, CT



Linked Friends

www.aoguitars.com - A gifted luthier that created Dave Blodgett's trademark axe.  A former student of Blodge's!


www.balkunguitars.com -  Custom built guitars, basses plus expert repairs, located in West Hartford!


www.concerttour.org -  a comprehensive list of the major concerts in the Hartford area.


www.ctnow.com  - The 411 on all that is CT


www.ctmamusic.com  -  A great site to see what is happening in the CT/MA music scene


www.doitupstudio.com In Queens or on Long Island?  Check out The Gap Wilson Band- classic rock at it's best!   


www.freerice.com-  An addicting word game that donates 20 grains of rice per correct answer to the world's hungry. 


www.jambase.com  - A great resource on local bands


Outhouse Sound - If you need the big guns for sound- call Mike!


www.songfacts.com -  What to know more about a song?  You can even add anecdotes


The Black Burns - East of the river's finest band that jams out classic rock!


www.themondays.com  -An original power pop/modern rock band that cut 2 CD's & plays around the country. 
 
The Whale 102.9 FM-  Classic Rock that Matters out of Hartford, CT

The River 105.9FM - A great mix of music broadcast out of Hartford, CT



ENGINEERING

Homegrown Studios, Burlington, CT- Joe DeSisto
Joe, an accomplished keyboardist and sound engineer, engineered and mixed The Score's demo, Behind the Curtain.  Joe has helped us with sound on several of our gigs.